Street Cats of the World – an exhibition at Neko Ngeru Cat Café, Petone:
I'm thrilled that Neko Ngeru Cat Adoption Café in Petone is currently showcasing an exhibition of some of my work: Street Cats of the World. The exhibition features a range of street cats in their urban environments, from Croatia to Cyprus, and from Mexico to Morocco.
The centrepiece of the exhibition is a large 1.2m by 1.2m print containing images of cats on the cobbled streets of Dubrovnik, Croatia: better known as King's Landing to Game of Thrones fans. A smaller version of this print (seen in the flyer below) was awarded a Silver with Distinction by the NZ Institute of Professional Photography a few years ago.
It was in Croatia that my husband and I rescued a tiny sick ginger kitten – Tisak – from under a street stall one stormy night, and that experience provided part of the inspiration for this series of photos. The exhibition also presents street cats from Hong Kong, Israel, Spain, Turkey, and the US. 
One of my earliest memories is of my Mum rescuing cats off the street and taking them back to the apartment where I grew up, which was in Lima, Perú. And as I got older, if I was really, really good, I was allowed to use the family camera, a battered old Yashica, to take pictures of the cats, as well as photos on family trips.
It was from those beginnings that my love of animals, photography and travel grew. But it wasn't until I moved to Wellington with my Kiwi husband some years ago, that I took up photography as a career.  
I see the Street Cats of the World exhibition as an opportunity to help promote the great work Richelle and Ken Okada of Neko Ngeru are doing, in finding 'forever homes' for cats sourced from animal rescue organisations in the Hutt Valley and the Wairarapa, such as Dump Cats.  
Street Cats of the World is now showing at Neko Ngeru Cat Adoption Café, at 291 Jackson Street, Petone, for at least the next month. At the café, patrons can have a drink and a bite to eat, while spending time with the cats available for adoption, as well as with Neko Ngeru's resident cats!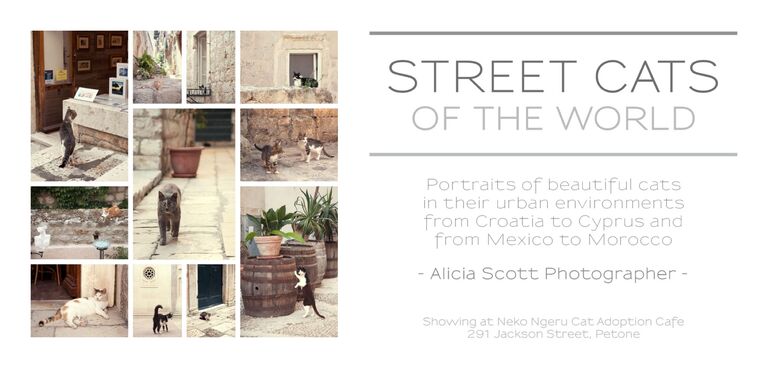 Update! I'm really pleased that the exhibition has been featured in Regional News. Great publicity for the work rehoming kitties done by Neko Ngeru Cat Café.

All the images from the exhibition are now available on my Street Cats of the World ~ Exhibition images post.
You can see some more images of adorable kitties, but from closer to home, on my pet photography page.