Street Cats of the World Exhibition
Happy International Cat Day 2020! And what better way to honour all the wonderful kitties around the world on their special day than by posting the images from my Streets Cats of the World Exhibition, which was held at Neko Ngeru Cat Adoption Cafe around this time last year.
Thanks very much to Neko Ngeru for hosting the exhibition at their cafe last year for a few months. I hope the exhibition helped to promote the great work Richelle and Ken Okada of Neko Ngeru are doing in finding 'forever homes' for cats sourced from animal rescue organisations in the Hutt Valley and the Wairarapa. Just recently they met a huge milestone, by adopting out their 100th kitty. Thanks also to all those who purchased signed limited edition prints of some of my images below. A portion of the proceeds went to Neko Ngeru to help them with their adoption programs.
If you didn't get to see last year's exhibition of Street Cats of the World, you can see all the images from the exhibition below, as well as the stories about each street kitty. Some signed limited edition prints of a number of the images are still available.
Cats of the Old City, Dubrovnik, Croatia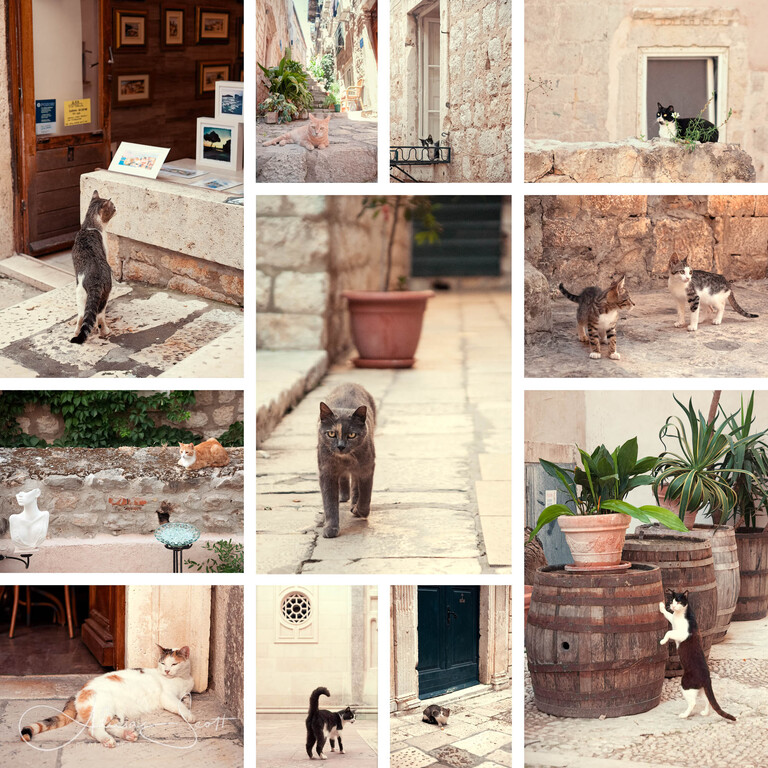 Sadly, Croatia has an unbelievable number of street cats. My husband and I rescued one of them, a tiny and very sick ginger kitten, from under a street stall during a thunderstorm one night in Split, and we were relieved to find a nearby vet willing to help stray cats and other street animals. We named him Tisak – which is the local word for street stall – and once we got back to Wellington were thrilled to hear that Tisak had recovered and found a loving forever home.
The images in this print were all taken in Dubrovnik – better known as King's Landing to Game of Thrones fans! I was very fortunate that a version of this print was awarded a Silver with Distinction by the NZ Institute of Professional Photography.
Hagia Sophia Cat, Istanbul, Turkey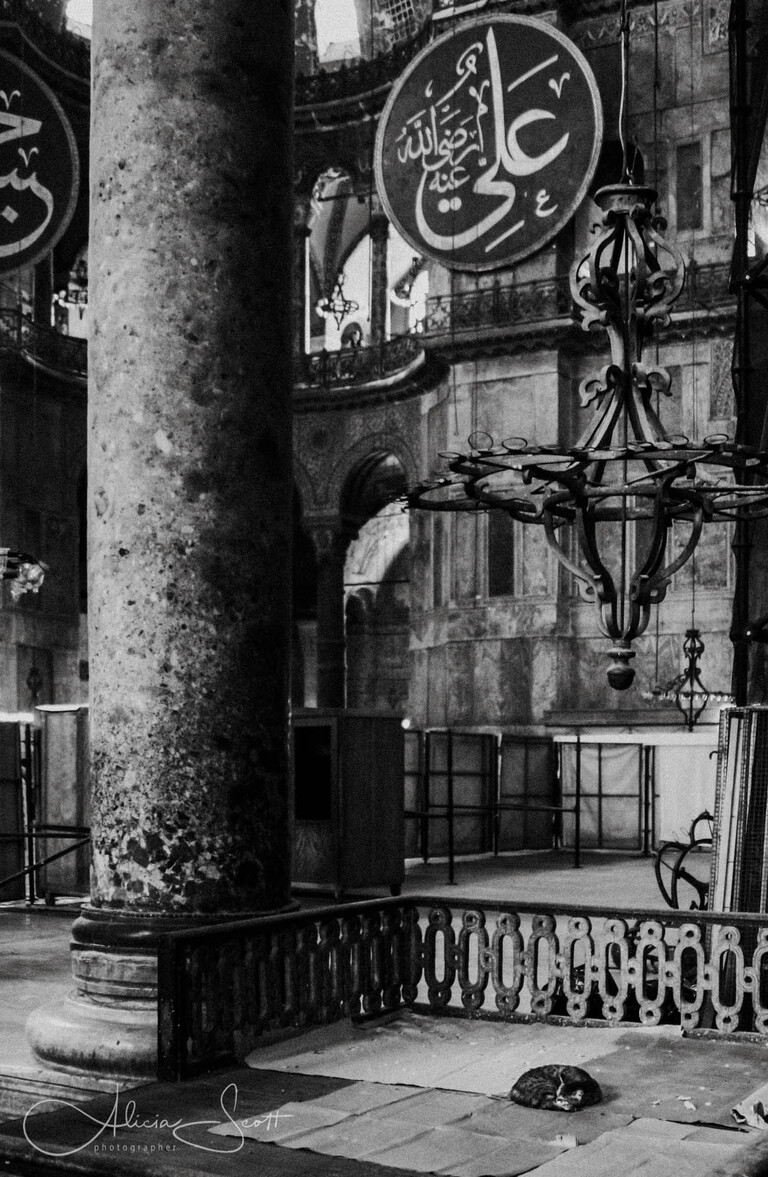 The spectacular 1,500 year old Hagia Sophia was originally a Greek Orthodox cathedral, but it was converted into a mosque after the Muslim conquest of Constantinople (modern day Istanbul). This massive monument is now a huge tourist attraction, so I was really happy to capture its resident cat napping during a quiet moment without any people in the shot.
Cemetery Cat, Zagreb, Croatia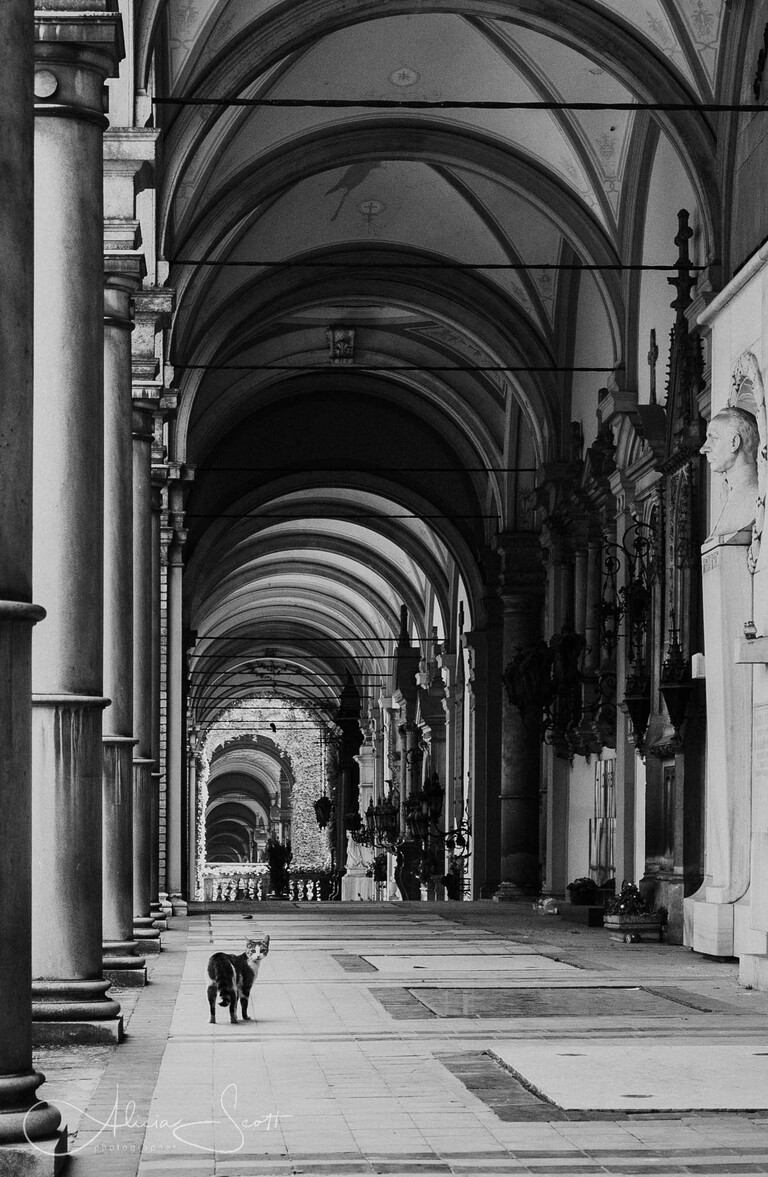 I have a bit of a fascination with old cemeteries, and like to spend time taking photos whenever I find one. Many of them seem to provide peaceful homes for abandoned cats, such as this stunning one in Zagreb, Mirogoj Cemetery.
Wandering Cat, Nicosia, Cyprus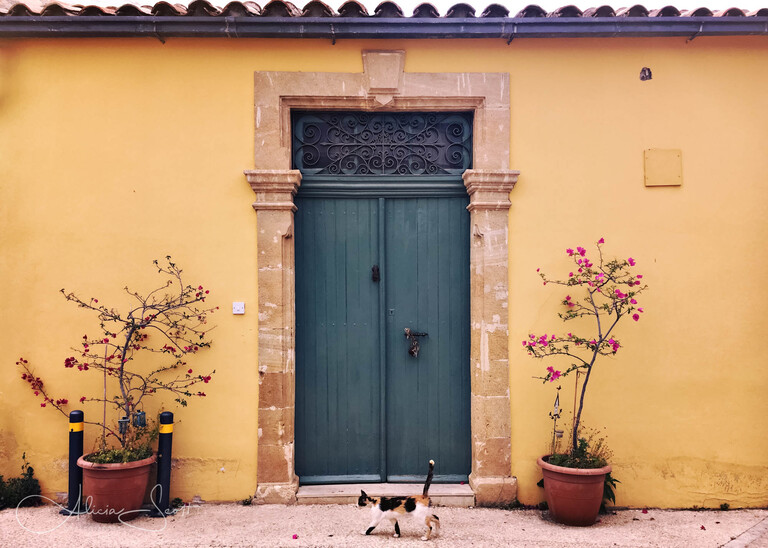 Nicosia is a divided city, with walls, barbed wire and United Nations observation towers separating Cypriot Greeks from Cypriot Turks. This doesn't seem to bother Nicosia's many street cats, who freely wander from one side to the other. In this case, this little street cat has found its home in a quiet Greek neighbourhood with little old cottages.
Meow! Haifa, Israel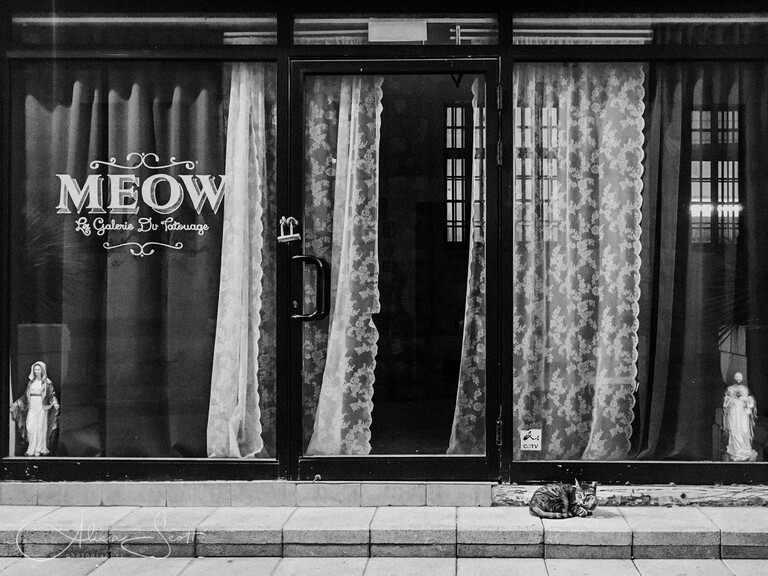 Haifa is a really funky coastal city in Israel, priding itself on its tolerant community of Jews, Christians, Muslims, Bahai and everybody else, all living together in relative harmony. This is one of two images of cats from Haifa in this Street Cats of the World exhibition, taken in a redeveloped area down by the old port.
Agave, San Miguel de Allende, Mexico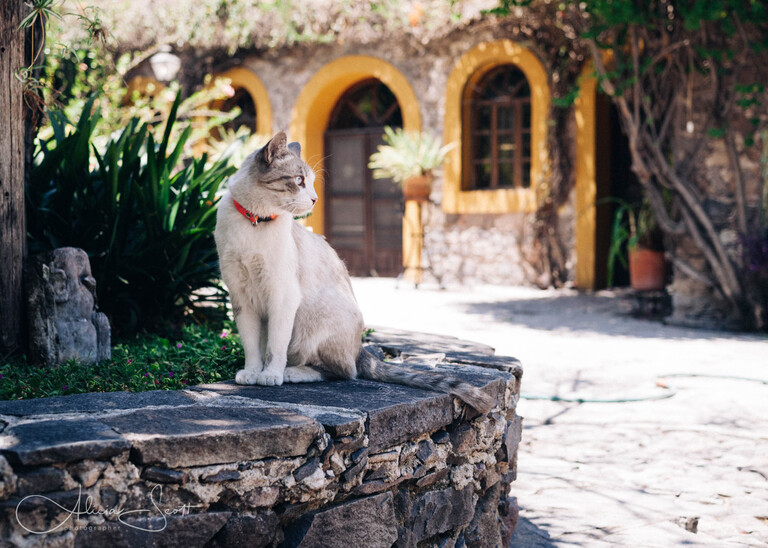 Meet Agave! Named after the famous cactus used to make tequila, she is probably the best looked after street cat featured in this collection of images. Adopted by an art school in San Miguel de Allende, she now even has a collar, but is still able to freely roam the school's lush gardens.
'Seafood Street' Cats, Sheung Wan, Hong Kong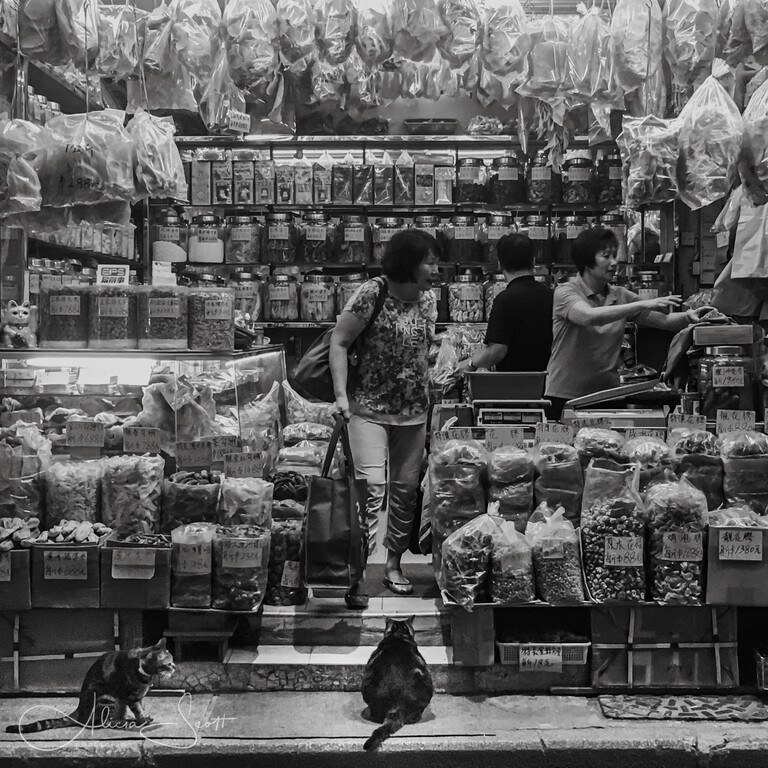 Hong Kong's Sheung Wan District is renowned for its markets, herbal medicines, food stalls and, of particular interest to kitties, dried seafood. I caught these two cats checking out one of the hundreds of shops on Des Voeux Road West, which is nicknamed Dried Seafood Street, because it has been the home of numerous seafood vendors since the 19thCentury.
Gallery Cat, Haifa, Israel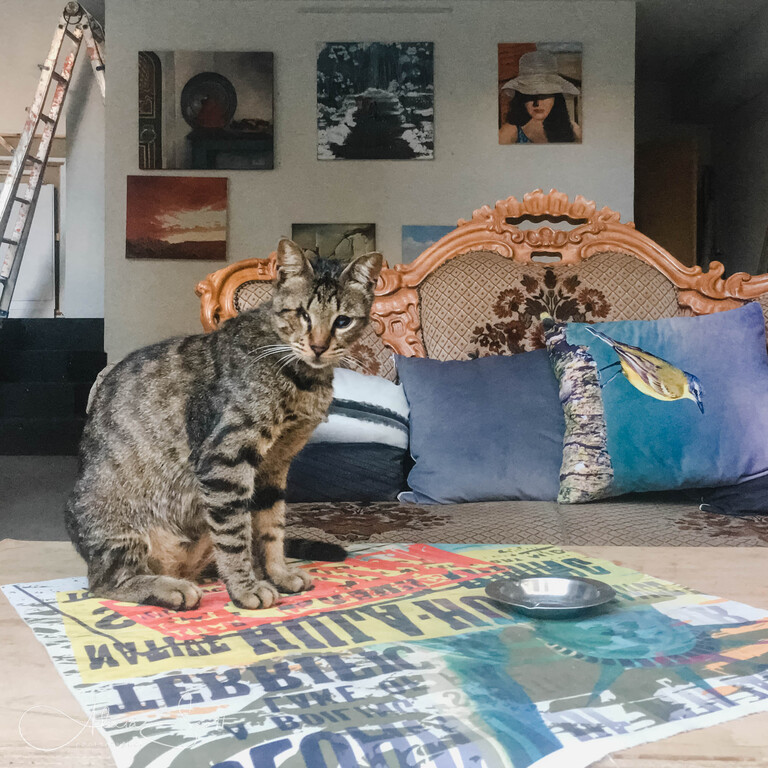 This is the second of two street cat images in the exhibition taken in Haifa. While still able to run around the streets, the one-eyed moggy in this photo had been 'adopted' by a local gallery owner. It's nice to know that there are always some people with good hearts everywhere you go.
Patient Cat, Larnaca, Cyprus
Larnaca is a pretty town on the southern coast of Cyprus. I suspect that the people living in this house give food to this street kitty. If so, I think I caught him patiently waiting for his next meal.
Adobe Cats, Santa Fe, New Mexico, USA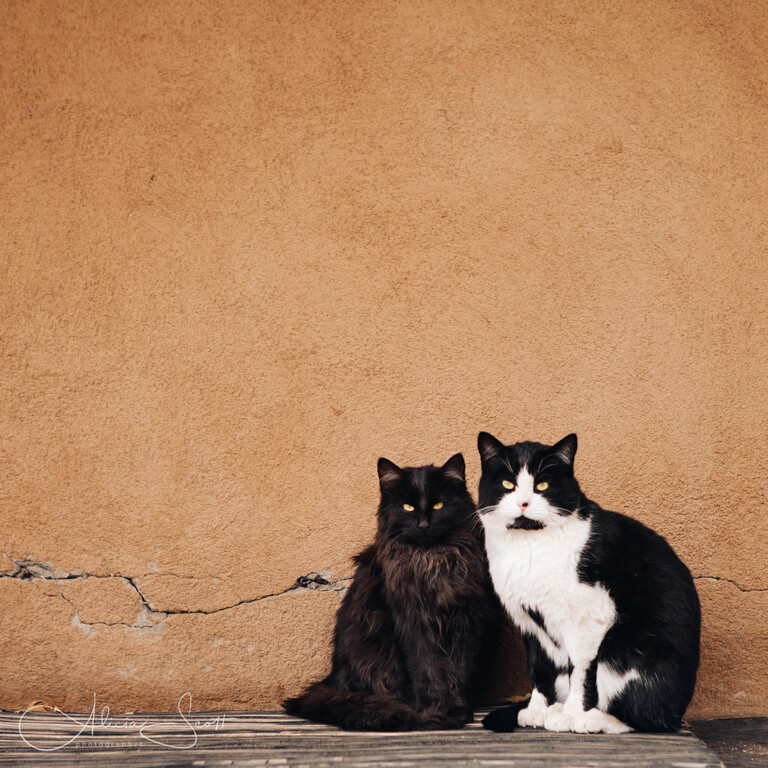 I fell in love with Santa Fe when I visited there to take some photography workshops a couple of years ago. Its colourful adobe houses, which combine Spanish and Native American architectural styles, somehow felt very familiar – perhaps echoes of a past life! These two gorgeous Santa Fe cats were kind enough to pose for me against an adobe wall.
Night Cat, Jaffa, Israel
The beautiful old city of Jaffa is the southern and oldest part of Tel Aviv. Fortunately, its many street cats appear to be well looked after by the locals, especially the owners of its many little art galleries.
Work of Art, Barcelona, Spain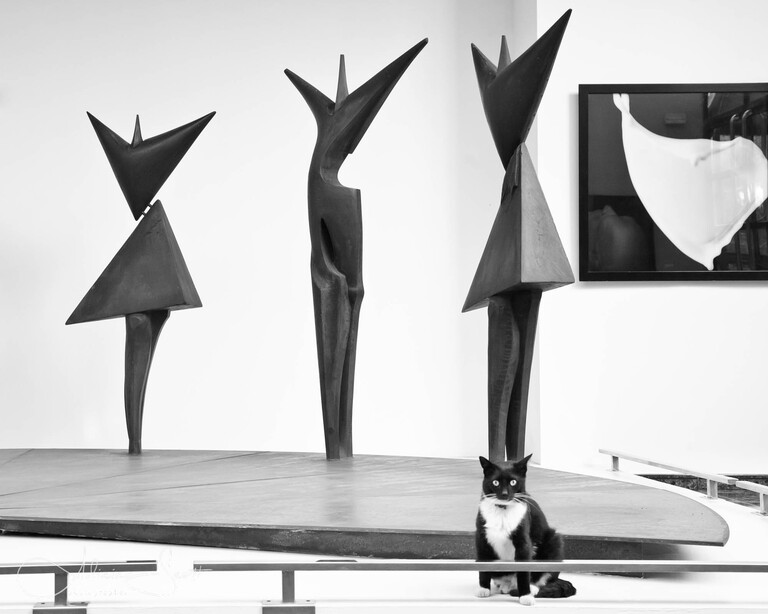 Admiring the modern art in a small gallery in Barcelona, I was surprised to come across this street cat, who had boldly wandered in through a side door. She elegantly posed for me in front of artwork that looked coincidentally similar to herself. I was really pleased that this image was recognised with a Silver award by the NZ Institute of Professional Photography.
Rock the Kasbah! Rabat, Morocco
The maze of old streets in Rabat's Kasbah des Oudaias seems to be filled with cats. This oldest suburb of Morocco's capital is perched on a cliff above the Atlantic Ocean, with almost all the houses painted in white and blue. Perhaps the cats like the smell of the sea – or of fish!
I hope you enjoyed these street cats of the world! And if you are interested in capturing a special image of your own local gorgeous furry baby, feel free to contact me about my pet photography packages. Or if you would like the perfect gift for any cat lover, ask me about my pet photography gift vouchers.